October 12 News Article THE VIDETTE (Illinois State University Campus Newspaper) – Former ISU student seeks new trial in 25-year-old murder case
Oct 12, 2023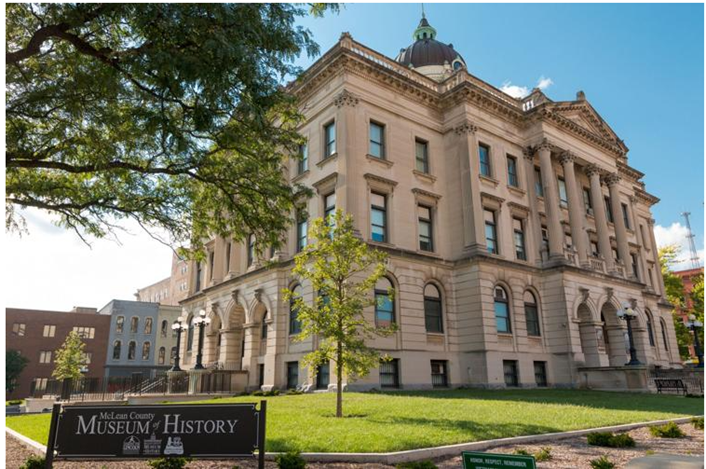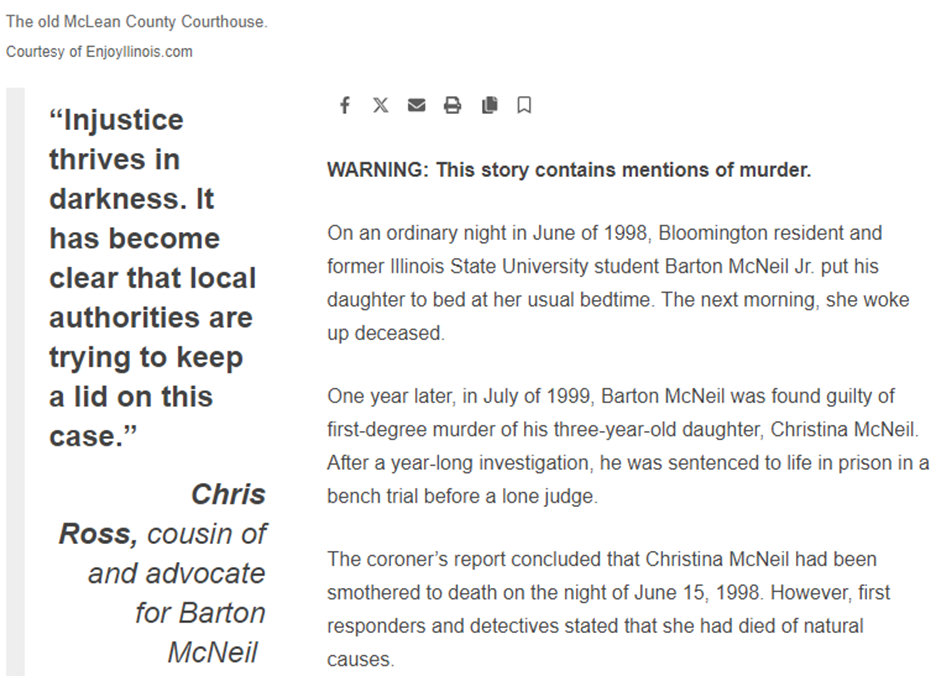 Barton McNeil himself later summoned the police back to his home on the day of his daughter's death, claiming that he had found evidence of a murder. He asserted that it was likely the work of his ex-girlfriend, supposing that she had sneaked into the apartment through the open ground bedroom window.
Barton McNeil's cousin, Chris Ross, strongly believes in his innocence. Ross has been working to prove this for ten years along with attorneys from the Illinois Innocence Project and the Exoneration Project.
Ross said that the justice system was unfair to Barton McNeil for not giving him the right to a fair trial. Instead, he was prosecuted in a guilty-until-proven-innocent manner, 48 hours after his daughter's death.
"Too soon for a formal investigation to even begin," Ross said.
Barton McNeil supporter Tom Gorman also spoke about his opinions on the case, wishing to point out the flaws of the way it was handled.
"I found this case fascinating because so many things seem so strange and inappropriate," Gorman said.
Ross said the investigation was flawed from the very beginning. He said that one of the detectives who had arrived on the morning of the discovery had taken blurry photos of Christina McNeil's bedroom. The small details were difficult to make out in the photo, despite the detective using a government-owned camera meant for professional photography.
"It would seem pretty obvious that he was holding the camera probably at arm's length and clicked two quick pictures of either corner inside the window of Christina's bedroom," Ross said. "He doesn't appear to have looked into the focusing aperture itself, causing the photos to come out grainy."
The detective who took the pictures wrote that he had only seen one hole in the window screen on the east side. Another detective claimed to have seen only one hole also, but on the west side.
Sergeant Randy McKinley, a senior detective whom both officers reported to, was called in to examine the scene of the crime since the evidence collected by the three detectives earlier that morning had proven to be inadequate.
Ross said that when the detectives returned to investigate the premises once again on the same night, they focused on cobwebs that were near the window, concluding that if someone had broken in, then the cobwebs would have been disturbed.
In an analysis of this original conclusion, a spider web expert from the University of Akron testified that unless the police were trained arachnologists with access to specialized lighting and camera equipment, it is plausible that an inhabitant spider would have come out of hiding after the screen was replaced and made repairs to the web. This was brought up in a 2014 Barton McNeil post-conviction hearing.
Ross said that the detectives failed to notice the bent bottom frame, the misplaced screen and the broken lock tabs of the window in their reports.
"It is both protection and coverup all going on at the same time," Ross said.
"It's just very strange and there are red flags with the police and the prosecutors all working together and it seemed like they wanted a quick answer instead of the right answer," Gorman said.
One of the detectives on the case, Marvin Arnold, interviewed Barton McNeil on June 17, 1998. Footage of this interview has been made public.
In the interview, Barton McNeil said that he and his girlfriend at the time — Misook Nowlin-Wang — had had many fights during their time living together. Barton also said that the police had been to their residence several times, including Nowlin-Wang being arrested for the fourth time for unlawfully restraining Barton and Christina from leaving their shared apartment. Barton said that Nowlin-Wang had always been jealous of his ex-wife and daughter.
Barton McNeil had tried to move out on different occasions. He became emotional during the interview as he expressed strong dissatisfaction with the department's approach to the investigation and also while looking over photographs of Christina.
In a report written for the Bloomington Police Department on June 18, 1998, Detective Shepherd, the head of the investigation, summarized a separate meeting he and Arnold had with Barton McNeil at the Bloomington police station. The interview took place on the same day as the first one.
Footage of this second interview has not been publicly released as police say it was never recorded despite it being a lengthier interview in which the police tried to get Barton to confess. At Barton's suggestion, they even allowed both him and Misook Nowlin-Wang in the same room to confront one another.
According to the police report, McNeil said that he believed Nowlin-Wang was behind everything.
The transcript also read that Barton did not appear to be emotional about his daughter's death. He defended himself by saying that his emotions were personal and not for them to see.
Nowlin-Wang was also taken into a separate interview room to speak to two different detectives. She began the interview by focusing on Barton McNeil, wondering what he had said to them about their relationship status.
Barton McNeil officially divorced his ex-wife, Tita McNeil, while living with Nowlin-Wang in 1996. According to Ross, Tita McNeil was persuaded by prosecutors to not respond to Barton's many letters which he had written to her after Christina McNeil's death. Since these letters were written while Bart was in jail, all were intercepted and held in the offices where Tita could come in to read them in the presence of security officers.
Tita McNeil had also placed a restraining order against Barton McNeil due to an altercation the two had had in the past.
"Part of the story that is interesting to know is that right after Christina was murdered, prosecutors essentially created a 'net' around Tita McNeil, preventing her from ever allying herself with her former husband," Ross said.
"They surrounded her with pro-prosecutor victim advocacy groups that told her Barton murdered her child and to not attend the trial. Later, after Barton was convicted, Houses for Humanity built her a home that she lived in for 20 years until it was sold in 2021," Ross continued. "It was like she was rewarded with a house for not taking Barton's side."
After the initial interviews, Nowlin-Wang's phone records were redacted by the prosecutor's office, showing the calls she made immediately before and after Christina McNeil's time of death.
There are many phone calls listed that were made by Nowlin-Wang on the night of the murder, including a few to her ex-husband, Andy Nowlin. The phone report was given to Shepherd and has been made public with many entries blacked out.
One of the calls that Nowlin-Wang claimed to have made was to her brother in Korea. The call had been made at 12:30 a.m. and lasted no longer than two minutes.
Ross believes that Nowlin-Wang had convinced her brother to become an accomplice.
"[Her brother] spoke English as he used to live with Misook and her husband…on their farm in Heyworth and he attended Illinois State University," Ross said. "He returned to Korea. So Misook could have gotten him to be an accomplice. Requested that he call her at a certain time that night to try and create the foundation for her alibi."
Shepherd confirmed that there was no record of a phone call made to Korea on her U.S. telecom carrier bills. Nowlin-Wang continued to insist that the phone call had happened, and her brother mailed her a copy of his phone bill from Korea.
"It looks fake, as though created on an Excel-like program. It does not make sense that this important inbound call from Korea would not have been shown on her phone bill," Ross said.
Later, Shepherd administered a polygraph test on Nowlin-Wang with an examiner with the Illinois State Police. According to Shepherd's police report, Nowlin-Wang fainted outside of the police department in the parking lot when told she was being requested to take a polygraph. She then failed the examination when it was conducted.
Shepherd attributed the failed results to Nowlin-Wang's lack of understanding with English, since she was Korean and had lived in South Korea before moving to the U.S. However, Ross believes that this claim is invalid.
Nowlin-Wang had met her ex-husband while he was stationed at Camp Pelham in South Korea where many U.S. servicemen were stationed. Ross said that by this time, Nowlin-Wang had learned English before moving to the U.S. with him.
Ross also spoke about Barton McNeil's former attorney, Tracy Smith, and how he built a case against Nowlin-Wang.
"Tracy Smith was Barton's court-appointed public defender who listened to Barton regarding Misook. And he was prepared to invoke the 'alternative suspect' theory in Barton's defense," Ross said. "However, he fell short when it came to his defense against his employer that had put forth a Motion in Limine." A Motion in Limine prevents a jury from hearing certain evidence.
Investigative journalist Scott Reeder agrees with Ross on the disorganization of Barton's defense team.
"I looked at a number of cases dealing with wrongful convictions over the years," Reeder said. "When I went through the court transcripts and noticed the pathetic defense that he received, I said, 'Wait a minute. This guy did not get a fair trial.' I looked at the totality of the case, and I think there is a strong likelihood that he is indeed innocent."
Ross mentioned a hearing that had been conducted by Smith on March 4, 1999, meant to argue that Nowlin-Wang was likely the guilty party in the murder of Christina McNeil. However, Judge Michael Prall took the side of the state's attorney's office, wishing to take Nowlin-Wang out of the equation altogether.
"Instead, as the court record will show…Judge Michael Prall agreed with the position taken by the state's attorney's office that Misook had no connection to the case," Ross said. "That Barton was grasping for straws despite the evidence showing otherwise. That he was alone in the apartment and that Misook was home alone in her apartment that fateful night."
"And although there was no physical evidence connecting Barton to his daughter's death, that by default as he was present, therefore is guilty," Ross continued.
The only tests that were technologically possible at the time were simple DNA tests and hair microscopy. The hair that was found in Christina McNeil's hand was tested and the results did not reveal anything.
According to Ross, it was inferred by the prosecutors and employees who had done the hair microscopy exam that the hair belonged to Christina McNeil herself.
"As in all likelihood, other indicators would show the hair not to be that of Christina. In the end, however, that is how the hairs were described — that they belonged to Christina, the victim," Ross said. "So we are to believe that Christina, while struggling against her attacker who is smothering her, pulled her very own hairs out."
"The bench trial judge said at sentencing that this was entirely a case built upon circumstantial evidence — that no physical evidence connected Barton to the murder of his daughter," Ross continued.
Gorman believes the hair analysis to be the most compelling piece of evidence that shows Barton McNeil's innocence.
"On day one, there was hair wrapped around Christina's forearms and hands. That tells me that Christina solved the murder," Gorman said. "She just needed the people to do the right thing and get hair testing, DNA testing, not the flawed microscope testing. And, they needed to get the proper samples."
However, a significant piece of evidence now being used by Barton's legal team is the alleged confession that Nowlin-Wang gave to her then-husband, Don Wang, a former ISU student. The confession took place before Nowlin-Wang murdered his mother, Linda Tyda, also a former ISU student.
In the confession, Nowlin-Wang said that she had murdered Christina McNeil in 1998 while in a state of intense anger.
Ross said that as further evidence pointed to Barton's innocence and Nowlin-Wang's guilt, she was charged in a juvenile crime-related smothering incident less than sixty days after Barton was arrested for the death of Christina McNeil.
The Innocence Project became aware of Nowlin-Wang's supposed confession of the murder and hired a private firm to investigate the issue. The firm obtained affidavits from Nowlin-Wang's daughter and Wang's wife, which the two of them volunteered.
With evidence leading toward a possible false conviction, Ross said that he continues to fight for his cousin, even after a decade.
"What does Bart do when the state decides not to retry him? He would likely be acquitted by default as no prosecutor would try and re-try Barton with a mountain of evidence showing him to have been innocent all along," Ross said. "He will have spent twenty-five years in prison for a murder he did not commit. He is entitled to enumeration."
From prison, Barton McNeil reflected on his college years and spoke about his studies at ISU and other colleges he attended.
"I was a student of ISU for just two semesters in the early 1990s after earning my associate's degree at Lincoln College, and then taking two semesters and Bradley University, majoring in speech communications with an English minor," Barton McNeil said.
When asked about his conviction after twenty-five years, Barton expressed that he believes it is becoming more and more difficult for the public to hide the truth about his innocence.
"The greater the public's exposure to this tragic tale of murder and injustice, the harder it is for dark-hearted authorities to maintain the child-murder getaway of my former girlfriend…" Barton McNeil said. "While I wasted away in prison now in my third decade despite my widely-recognized innocence."
Misook Nowlin-Wang was sentenced to 55 years in prison on four counts of first-degree murder. She now resides at Logan Correctional Center in Lincoln, Illinois.
Barton McNeil was sentenced to 100 years in prison on two counts of first-degree murder. He now resides in the Pinckneyville Correctional Center in Pinckneyville, Illinois.
Evidentiary hearings for the case are ongoing.
Reeder expressed his opinion about the way the evidentiary hearings have been handled so far.
"What troubles me about the hearings is that they seem to be very focused on procedure from decades ago, but nobody seems to be focused on the injustice done here," Reeder said. "Nobody is really asking, 'Was this guy wrongfully convicted?'"
"When you look at everything brought up by the Exoneration Project and the Illinois Innocence Project, you'll see that there's a lot that should have been brought up in that trial that wasn't," Reeder continued.
Barton McNeil's next court hearing will be at 9 a.m. on Nov. 21 at the McLean County Courthouse. The hearing is to see evidence concerning Misook Nowlin-Wang's confession to Don Wang that he in turn told to two others.
"Injustice thrives in darkness," Ross said. "It has become clear that local authorities are trying to keep a lid on this case."
The McClean County State Attorney's Office was not available for comment.
PAUL AGUILAR is a News and Features Reporter. Aguilar can be reached at [email protected]. Follow Aguilar on Twitter at @aguilarpaul788.
About Author