August 11 News Article THE PANTAGRAPH – Bloomington woman (Misook) won't get new trial on charge tied to 2011 murder
Editor's note: Misook Nowlin (aka Misook Wang) has been in the appeals process since the moment of her conviction in December 2012 for the September 2011 strangulation death of her mother-in-law Linda Tyda. A woman Misook described on many occasions during police interviews and court testimony as someone "she loved like her mother". Just as she also told police "she loved Christina like her very own daughter". Misook's latest ploy, after being denied an outright appeal of her entire three counts of first degree murder that resulted in her current 50-year sentence (murder, premediated murder, murdering an elderly person), was to appeal her own confession of having disposed of her mother-in-law's body in a forest preserve. This took place after Misook told a friend she began to stink like eggs in her place of business where she was murdered. She then undressed her mother to make her nude, taped two trash bags together, broke her neck in order to get her to fit in the plastic tub, and buried her in a shallow grave in a forest preserve located between Bloomington and Chicago. All of these actions with her then 5-year old son Donovan present. Who asked his mother Misook why Linda was in the plastic tub to which Misook responded "she's hiding".
In 2013 at her sentencing hearing Misook received an additional 5-year sentence for disposing of the body that was to be served in addition to the 50-year sentence. Misook hoping to be ordered a "New Trial" all on this basis. Claiming ineffective counsel. Clearly the 11th Circuit Court judge in McLean County made the right ruling here denying her appeal.
You'd think this was the end right? Nope! Read the bottom of this article and you'll see she even plans to appeal this decision. Continuing to put a burden on the taxpayers of McLean County and the State of Illinois with yet another attorney assigned to come to her aid. Below is a picture of a serial killer woman with no morals. Based upon the overwhelming evidence that now shows her to have murdered Barton's 3-year old Christina McNeil, it has now become incumbent upon the State to charge her in the 1st Degree smothering of an innocent father's little girl. And to ensure she never again sets foot in society to menace the public nor her own family.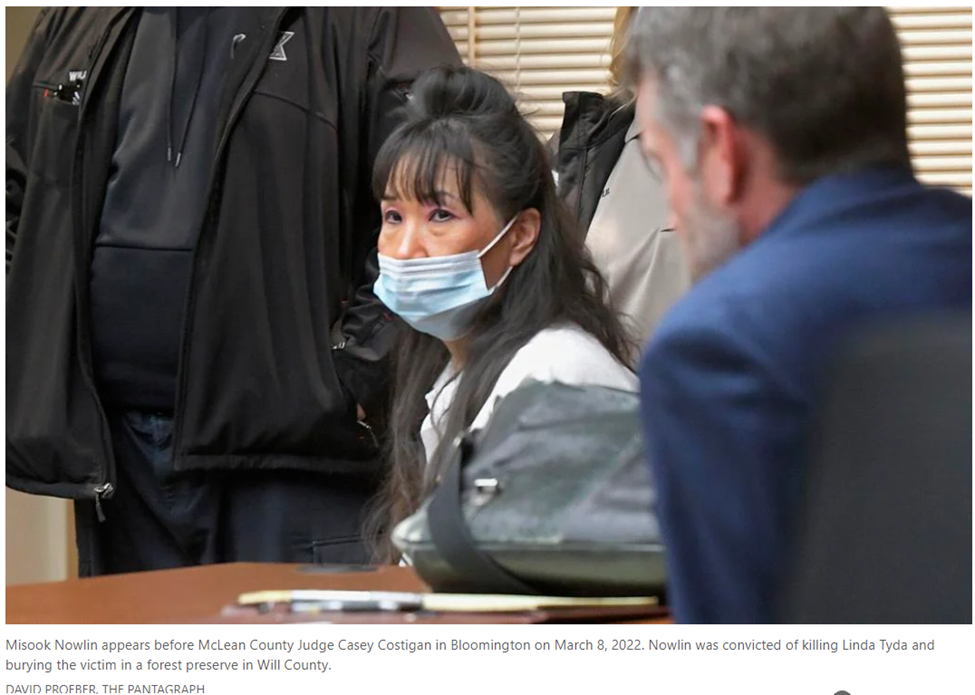 By Kelsey Watznauer | August 11, 2023
BLOOMINGTON — A McLean County judge has ruled a Bloomington woman, who is serving 55 years for a 2011 murder, will not get a new trial on a related charge.
Misook Nowlin, 57, was convicted in 2012 of first-degree murder in the strangulation death of her mother-in-law, Linda Tyda. Before her trial began, she pleaded guilty to one count of concealment of a homicidal death.
Earlier this year, her attorney Jeff Brown filed a petition on her behalf asking the court to conduct an evidentiary hearing, vacate her guilty plea on the concealment charge and set the matter for a new trial.
Judge Scott Kording heard arguments in May on the third-stage petition for post-conviction relief from Brown and then-Assistant State's Attorney Mary Koll.
Having taken their arguments under advisement, Kording issued a ruling Friday afternoon, denying the motion.
In the petition, the defense argued Nowlin had ineffective assistance of counsel because her trial attorney, Brian McEldowney, did not file a motion to withdraw her guilty plea when given the opportunity during the early appeal process. He instead filed a motion to reconsider the sentence on the concealment charge.
McEldowney testified in May that he had advised her to choose a reconsidered sentence motion rather than a withdrawn plea because the evidence on that count was "substantial."
Tyda's body was found Sept. 12, 2011, in a shallow grave near a forest preserve off Interstate 55 in Will County, The Pantagraph previously reported.
Nowlin agreed with his recommendation and asked Judge Robert Frietag to reconsider her sentence, a motion the judge denied.
During his ruling Friday, Kording noted Nowlin did not ask McEldowney to file a motion to withdraw her guilty plea and said McEldowney's performance was not ineffective.
The judge said in consideration of the two-pronged test of an ineffective assistance of counsel claim, known as the Strickland test, not only was McEldowney not deficient in his role as counsel — the first prong — but if he had been, the outcome likely would not have been different — the second prong.
"I don't see any real likelihood that the defendant would have avoided another conviction on count four," Kording said.
McEldowney's trial strategy, as the attorney testified, was to increase Nowlin's credibility with the jury for her self-defense claim by entering the guilty plea on the concealment.
Kording said he thought McEldowney's trial strategy was coherent and reasonable.
Following the ruling, Brown said Nowlin wanted to appeal Kording's decision. Kording reappointed the Office of the State Appellate Defender to take up her case.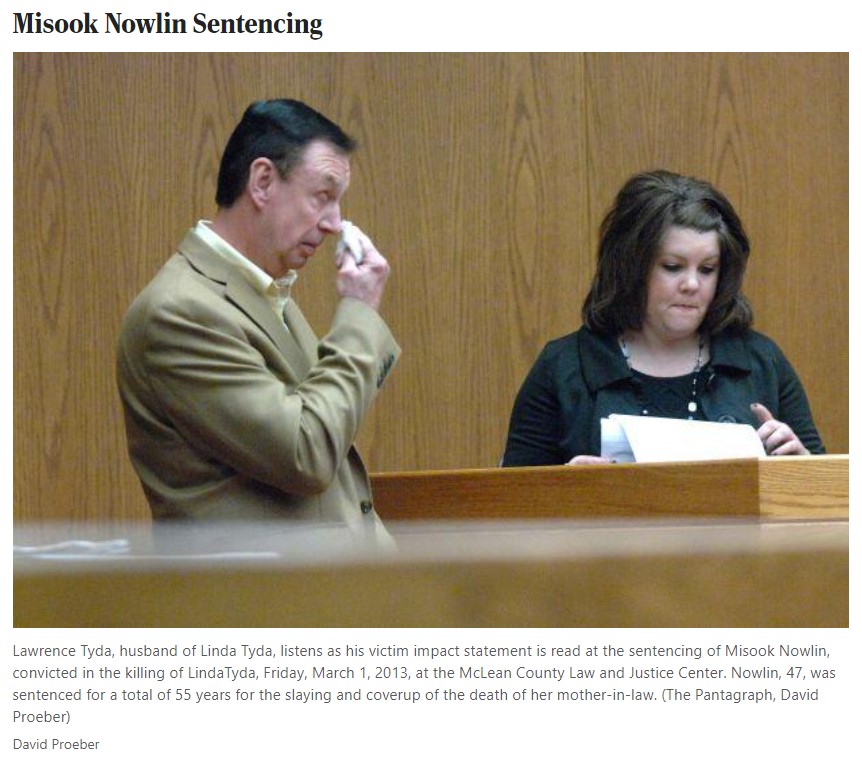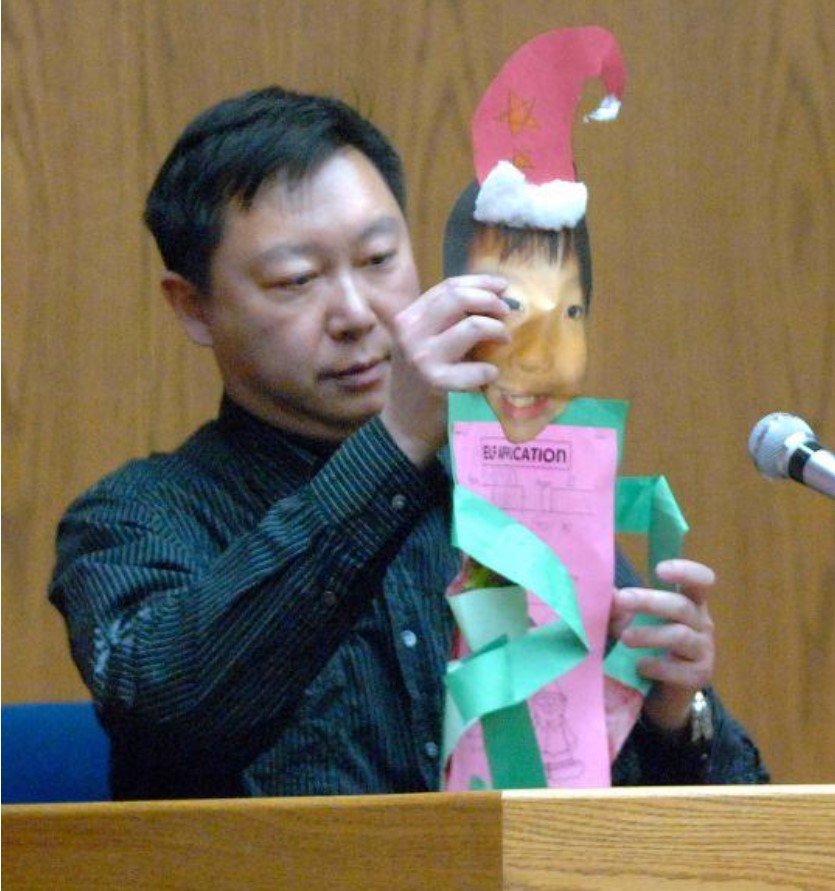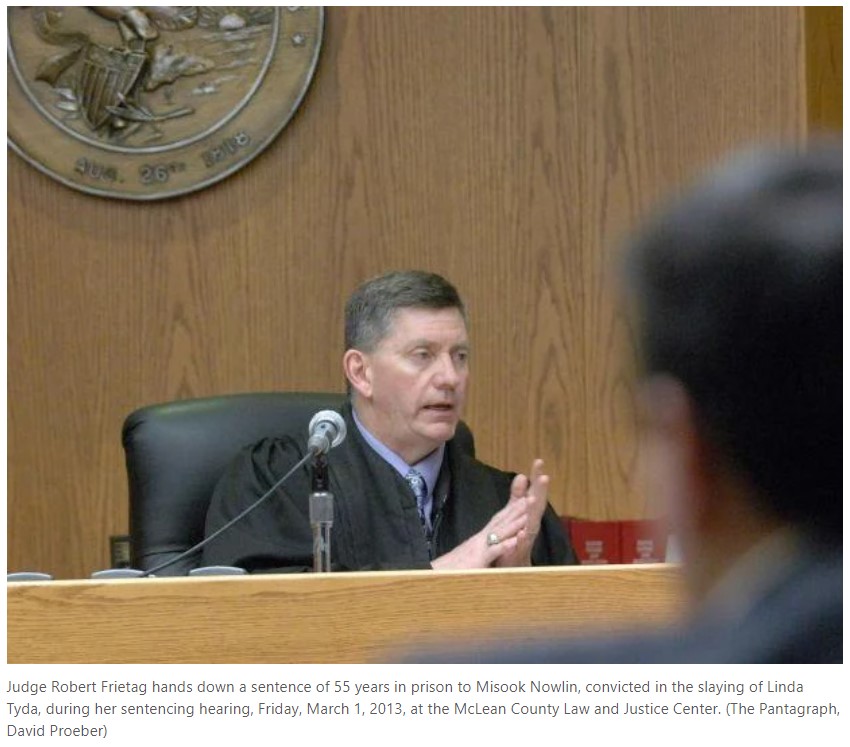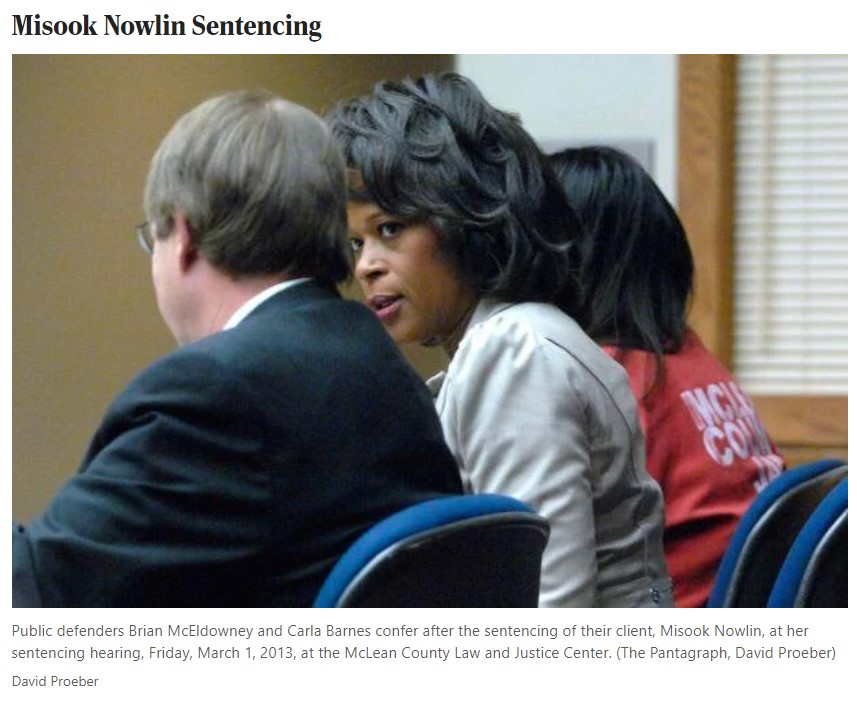 About Author