2023 June 6 News Article – WGLT National Public Radio – Judge allows Misook Nowlin's DCFS records as evidence in Barton McNeil murder case
WGLT | By Edith Brady-Lunny Click here for WGLT news article link
Published June 6, 2023 at 5:18 PM CDT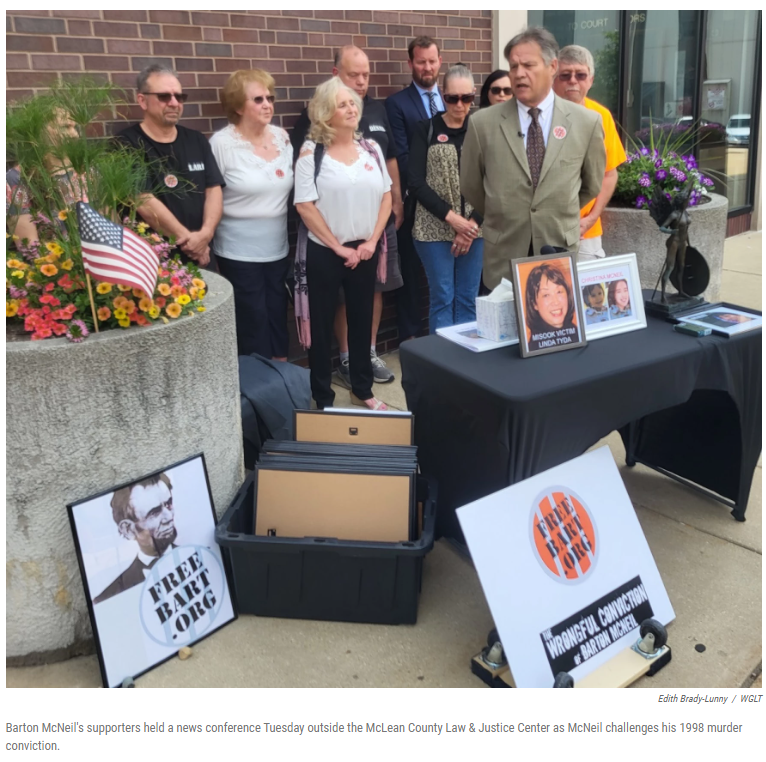 Child welfare records related to child abuse by Misook Nowlin can be used by Barton McNeil in his challenge to his 1998 murder conviction in his daughter's death, a judge ruled Tuesday at a hearing in McLean County court.
McNeil, 63, smiled and waved to a large audience of supporters as he was escorted from the courtroom after the 20-minute hearing.
McNeil was a cook at a Bloomington restaurant in June 1998 when his 3-year-old daughter Christina was found unresponsive in her bed at his apartment following an overnight stay. Hours after her body was removed, he summoned police back to his home on Croxton Avenue to examine what he thought may be evidence of a break-in, and the intentional killing of his daughter.
McNeil suggested police talk to Nowlin, his former girlfriend, who was accused in a pending court case of physically abusing him. Nowlin's history of violence against McNeil and her own daughter, Michelle Nowlin, were not considered at McNeil's bench trial and sentencing hearing.
In 2011, Nowlin was charged with strangling her mother-in-law, Linda Tyda, after luring the 70-year-old victim to Bloomington from her home near Chicago on the pretense of hiring her as a translator. Nowlin is serving 55 years in prison for Tyda's murder.
At Tuesday's hearing, McNeil's lawyers with the Exoneration Project and the Illinois Innocence Project asked that Nowlin's history of child abuse be used to support an affidavit by Michelle Nowlin that her mother beat her. The state records could also support defense arguments that Nowlin threatened to kill her daughter by suffocation, the same method authorities believe was used to kill Christina.
Two other affidavits that claim Nowlin confessed to two people that she killed Christina also are considered evidence discovered since McNeil's trial.
Dawn Nowlin, wife of Nowlin's former husband Andy Nowlin, and the suspect's daughter both allege in signed statements that Don Wang relayed Misook Nowlin's confession to them in conversations after Tyda's funeral. Wang was Nowlin's husband at the time Tyda was murdered.
In making the ruling, judge William Yoder made it clear that DCFS statements are as far as the defense can go in their efforts to support Michelle Nowlin's affidavit. Other claims about Nowlin's misconduct will not be considered at a future hearing on potential new evidence, said Yoder.
In a ruling last year, Yoder dismissed multiple areas of potential new evidence developed by the defense, except for the alleged confessions and the DCFS records. The mosaic of other forensic evidence pointing to McNeil's ex-girlfriend as a viable suspect did not meet the legal standard for new evidence, the judge previously ruled.
At a news conference after the hearing, McNeil's cousin, Chris Ross, called on the Illinois Attorney General's office to appoint a special prosecutor to bring evidence against Nowlin to a grand jury on murder charges in Christina's death. The state's top prosecutor and the governor have an obligation to prosecute Nowlin, said Ross.
"Misook Nowlin killed Christina McNeil and should be charged with murder," said Ross, standing outside the Law and Justice Center, flanked by McNeil supporters.
The family's demand for a grand jury investigation was independent of McNeil's lawyers, who did not attend the news conference.
A July hearing is scheduled to review the results of the DCFS records request and to set a date for the evidentiary hearing on potential new evidence.
Edith began her career as a reporter with The DeWitt County Observer, a weekly newspaper in Clinton. From 2007 to June 2019, Edith covered crime and legal issues for The Pantagraph, a daily newspaper in Bloomington, Illinois. She previously worked as a correspondent for The Pantagraph covering courts and local government issues in central Illinois.
See stories by Edith Brady-Lunny
About Author