2021 February 23 News Article – Bart McNeil Seeks New Trial On Murder Charges (WGLT National Public Radio)
By EDITH BRADY-LUNNY • FEB 23, 2021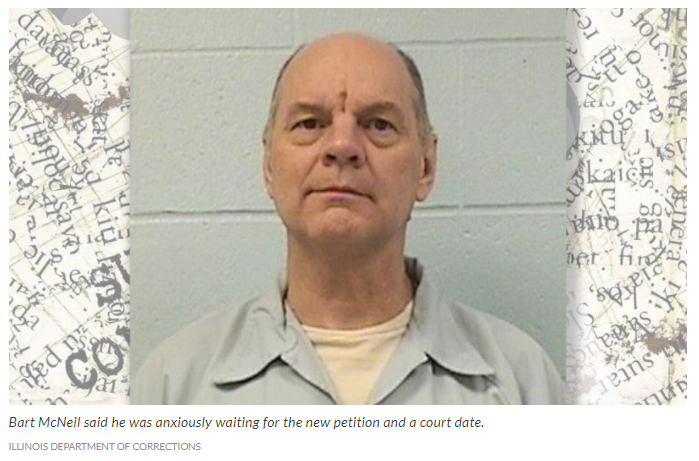 New evidence in the 1998 death of 3-year-old Christina McNeil exonerates her father of murder charges, according to a petition filed on Tuesday by lawyers for Bart McNeil.
McNeil is serving a 100-year sentence on murder charges in the suffocation death of his daughter.
In the 65-page petition and four volumes of exhibits, lawyers with The Exoneration Project and the Illinois Innocence Project challenge key evidence used by the state to convict McNeil during a four-day bench trial before now-retired judge Michael Prall.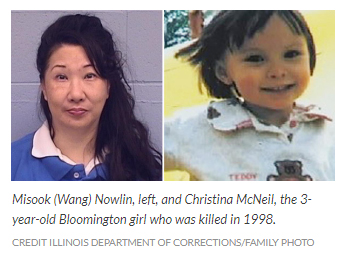 Misook (Wang) Nowlin, left, and Christina McNeil, the 3-year-old Bloomington girl who was killed in 1998.CREDIT ILLINOIS DEPARTMENT OF CORRECTIONS/FAMILY PHOTO
A pathology report by Dr. Violette Hnilica claiming Christina was sexually molested before she was smothered will be challenged with new scientific evidence, according to defense lawyers.
"Applying modern scientific principles, a renowned forensic pathologist has now concluded that noting about the autopsy findings in Christina McNeil's case supports an objective, independent diagnosis that she was smothered or that the manner of death was a homicide," said the petition.
Lawyers argue a child abuse expert will testify the state's accusation of molestation was equally faulty.
"The bottom line is that modern science completely repudiates Hnilica's testimony regarding any alleged motive," states the defense motion.
Much of the court filing focuses on the defense theory that a second, more likely suspect who was later convicted of another murder, avoided serious consideration as a suspect by authorities. McNeil's former girlfriend, Misook Nowlin, was jealous, vindictive and had a history of physically abusing adults and children, according to McNeil's counsel.
The night before Christina's body was found in her bed at her father's Bloomington apartment, McNeil and Nowlin had a bitter disagreement at a restaurant that ended their relationship. Evidence that someone may have entered the child's room through a window and knocked over a fan was dismissed by Bloomington police detectives.
Lawyers point out it was McNeil who summoned police to his home to investigate what he thought was the murder of his daughter.
During his trial, McNeil's lawyer, Tracy Smith, was barred from introducing evidence of an alternative suspect.
The results of DNA tests performed during McNeil's post-conviction proceedings show Nowlin, Christina and McNeil could not be excluded from DNA profiles collected from a bedsheet. Hair collected from inside a pillowcase was not Christina's, but consistent with Nowlin's DNA, said the petition.
Nowlin's actions in the 2011 strangulation death of her mother-in-law Linda Tyda showed her "idiosyncratic and patterned history of homicide," according to a chart included with the filing of 11 similarities between the two deaths.
The defense also asks the court to consider new allegations about Nowlin's suspicious conduct the night of the child's death and her presence at the apartment the next morning when police arrived. Information that Nowlin told her former husband Don Wang that she killed Christina also should be heard, said the petition.
In a recent phone call with WGLT from the Pinckneyville Correctional Center, McNeil said he was anxiously waiting for the new petition and a court date.
"I've already been locked up for 20 years. If justice is going to be done, let's not draw this out any longer. I hope justice is served for my daughter, whose killer or killers have paid no penalty for her death," said McNeil.
A court date has not been set on the petition for a new trial.
McNeil's conviction was the subject of the WGLT podcast Suspect Convictions in 2018.
About Author