Misook Nowlin murder case featured on "Snapped" television show on Oxygen Network and "Deadly Women" and "Evil In-Laws" on Investigation Discovery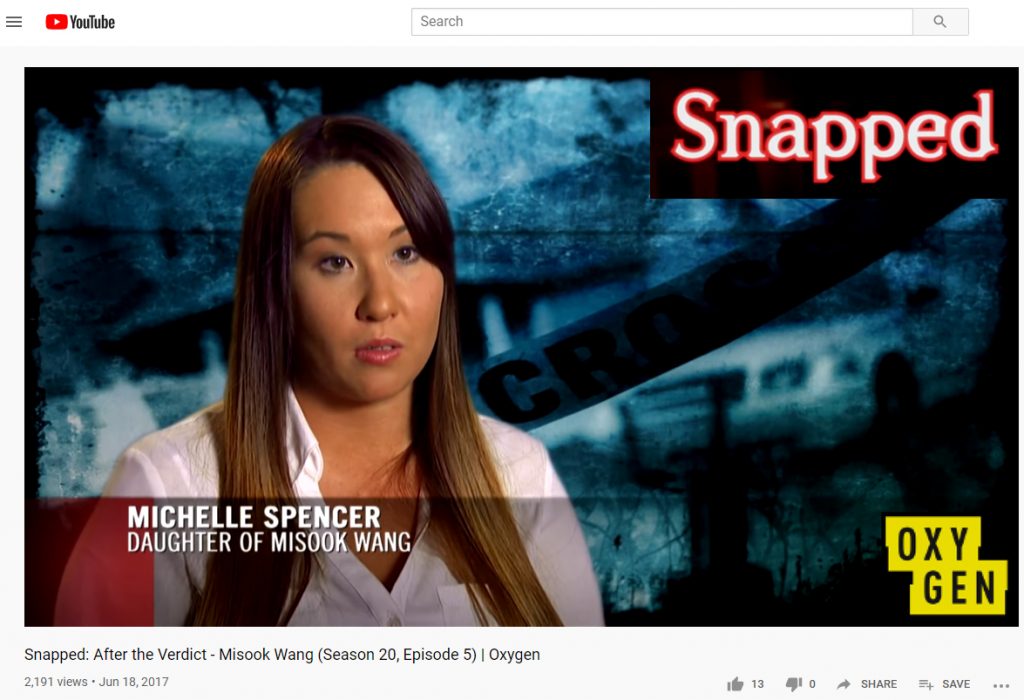 The true crime saga of Misook Nowlin, former girlfriend of Barton McNeil, has aired on several television shows and networks. A new show series called "Snapped: Behind Bars" will be airing a new piece on Misook Nowlin now serving her 55-year sentence during the 2nd Quarter of 2021. Misook has agreed to be interviewed on camera for this updated piece for their new show "Snapped: Behind Bars". The show premiered September 25th, 2021, on the Oxygen Network and is usually re-aired once or twice a month on the Oxygen Network. The show listing is S1 Ep 2 that stands for Season 1, Episode 2, and references Misook Wang by name as part of the show's description.
Click HERE for show promotional video.
When Misook was previously featured on Oxygen channel Sept 15, 2017, it was for their show "Snapped" and the one-hour show focused only on Misook's macabre strangulation murder of her mother-in-law Linda Tyda. There is no mention of Barton McNeil's case tying into the strangulation murder case Misook Nowlin was convicted of. Now that Bart's attorneys have submitted a 65-page Successive Petition for Post Conviction Relief on February 23rd, 2021, now everyone knows how the two cases are interconnected.
Barton's legal team, as are many friends, family and supporters are convinced of her guilt in the murder of Bart's daughter 23 years ago. The Snapped: Behind Bars episode is the FOURTH professional production detailing the Misook Nowlin murder of Linda Tyda. Alas no mention of Barton's tie-in to the case took place in the first three episodes as show producers didn't want to confuse the audience preferring instead to stick with the one case that began and ended with solely Misook's guilt. They did use a person that portrayed Misook who does seem to look like her though. And another actress to play Linda Tyda. Linda's real husband Larry Tyda is featured, as is Edith Brady-Lunny, a local reporter for the Pantagraph newspaper who followed the case (as well as Bart's), and Assistant State's Prosecutor Kevin Sandborn who helped prosecute the case. One can now Google search "Misook Snapped" or do so on YouTube and watch this episode either free or for a small fee.
In addition, Misook was featured on Investigation Discovery's "Deadly Women" and "Evil In-Laws". Streaming options for any of these shows may still exist. However will be easiest to get the "two-for-one" show which is Snapped: Behind Bars, Season 1, Episode 2, as then you will have the benefit of seeing two interconnected murders for the price of one!
About Author