1997 August 20 – One Year prior to murder, Misook Nowlin charged with Domestic Battery against Barton and his then 2-year old daughter Christina McNeil
Below is the Initial Case Report filed by Bloomington Police Department whereupon Misook Nowlin was arrested August 20th, 1997, a full year before the murder of Christina McNeil, in a domestic assault case perpetrated by Misook against none other than her then-live-in boyfriend Barton McNeil and his then two-year old daughter Christina McNeil with whom Bart has custody of that night.
Police were summoned to their second floor apartment after Misook had taken Barton's computer monitor and threw it on the floor smashing it during her moment of anger. Barton then attempted to leave their apartment while cradling Christina in his arms but Misook pushed him back preventing him from leaving.
Police responded and Misook became argumentative with them. She also admitted to have physically prevented Barton from leaving his apartment with his daughter Christina in his arms. After these admissions, Bloomington Police arrested her then and there and was taken to the Bloomington Police station for processing.
She was subsequently charged and convicted with Domestic Battery against Barton and his toddler daughter and was required in 1999, leading up to the murder, to attend Anger Management classes with McLean County Department of Health and Social Services. Her counselor was Dan Taylor. Bart attended a number of these anger management classes in order to provide support for Misook. Per Bart, much of Misook's anger as expressed during these sessions, as told to Dan Taylor by Misook herself, stemmed from Bart needing to maintain relations with his ex-wife Tita McNeil since they were both the parents and active caregivers to Christina. Misook confided to Mr. Taylor that she was further upset that Bart was having to pay child support amounting to a few hundred dollars each month to Tita and that Bart was also amenable to spending as much time with Christina as Tita desired since Tita was working three jobs as a nurse at the time.
The charging documents, court trial evidence, and Misook's psychological reports available through the McLean County Department of Health and Social Services, were never made available in Barton's defense. These documents are what is known as exculpatory material. The withholding of this information from Barton and his attorney is known as a Brady Violation. Within 90 days of Barton being charged in the murder of Christina, Misook was charged with smothering her own daughter Michelle Nowlin who was age 8 at the time. Again these charging documents and court related documents were also withheld from Barton and his attorney. Had both of the case files been provided to Barton's attorney for his defense, Linda Wenlan Tyda might still be with us today and Barton a free man.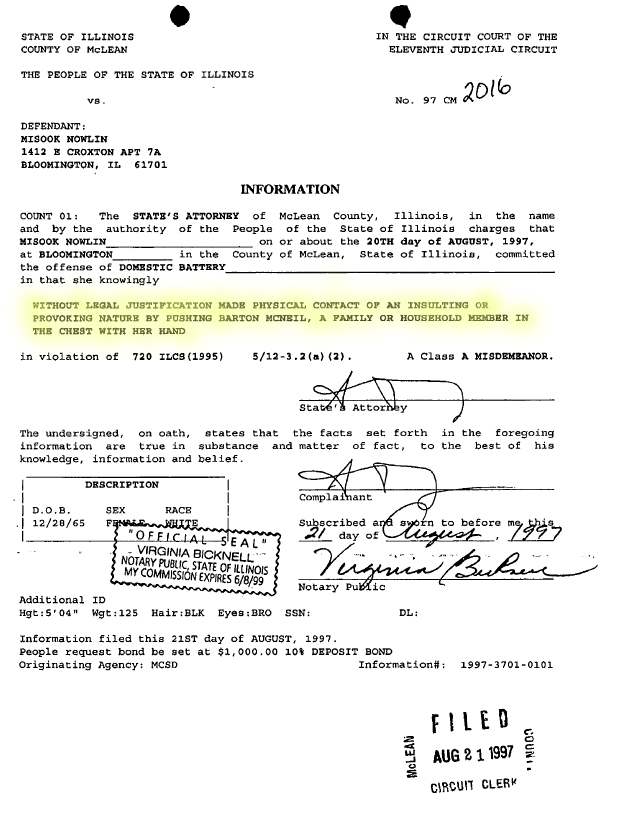 About Author