2022 September 29 News Article – NBC Week-25 News – McLean County group asking for review of possible wrongful conviction cases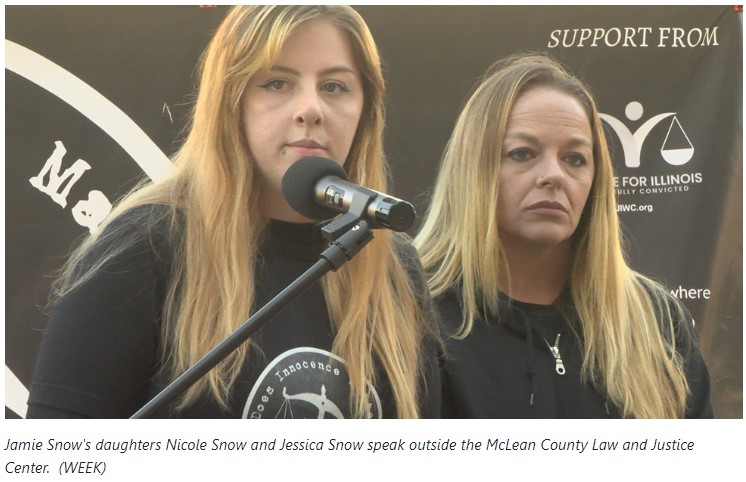 By Lizzie Seils | Published: Sep. 29, 2022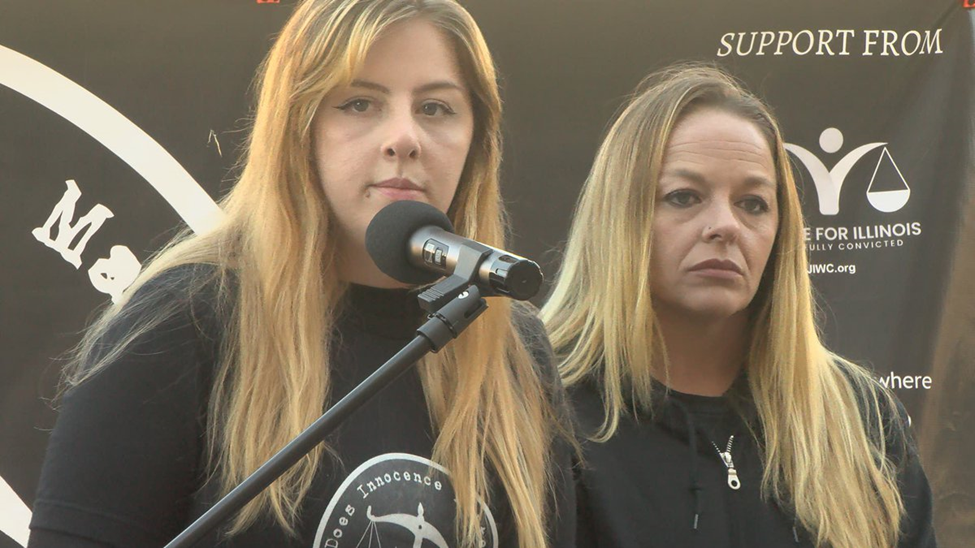 PEORIA (25 News Now) – Steps away from the McLean County Law and Justice Center, family members, and advocates are asking for a review of cases they believe to be wrongful convictions.
With the newly sworn-in McLean County State's Attorney Erika Reynolds, they're hoping it will breathe new life into the issue. With amplifiers and microphones, they spoke to Reynolds from below.
"This is your responsibility," advocate Tammy Alexander said to Reynolds on the five cases the group focuses on. Three cases have been reviewed and the convicts are out of jail. "This is your mess, this is your problem to fix."
They're asking for the review of Jamie Snow and Bart McNeil's convictions from 1999 and 1998. McNeil was convicted of killing his 3-year-old daughter Christina in her sleep. He maintains his innocence, suggesting his ex-girlfriend Misook Nowlin as the possible perpetrator.
Snow was convicted of killing an 18-year-old gas station attendant during a robbery. A co-defendant and sister-in-law Susan Claycomb was also convicted of the crime, but her conviction was later overturned.
"It was based on faulty eyewitness testimony and jailhouse informants," Alexander said. "No physical evidence linked Jamie to this crime."
Both men are represented by the Exoneration Project. McNeil is also represented by the Illinois Innocence Project.
Reynolds did not wish to comment on cases that were led by previous state attorneys. She also cited an Illinois law preventing her from making comments outside the courtroom on ongoing litigation, which would be Snow and McNeil's cases.
She said anyone wishing to know the office's opinion on those cases can attend their hearings, which are open to the public.
Snow's family was there in a show of support, bringing along the generation of children and grandchildren the family says Snow has not been able to meet during his 23 years in prison.
"One person is convicted but the whole family suffers," Snow's daughter Nicole Snow said. She was 7 years old when her father went to prison. She said the conviction led to withstanding trauma in her family, as well as turning her mother into a struggling single mom of five children.
"People think that 6-year-olds and 7-year-olds, little kids don't recognize that but you do," Nicole continued.
They're hoping Reynolds will be the break they need to get their father's case reviewed. They assert there is no physical evidence linking him to the crime, and that witnesses that previously came forward have since recanted or revised their testimony.
"Take a look at all the evidence that we have built that shows my dad's innocence," Another daughter Jessica Snow said. "There's somebody else that committed this murder that's probably walking free."
Copyright 2022 WEEK. All rights reserved.