2011 October 21 – Prison yard phone call from Barton to talk radio station WJBC reignites interest in his wrongful conviction claims and brings extended family to his aid LISTEN TO CALL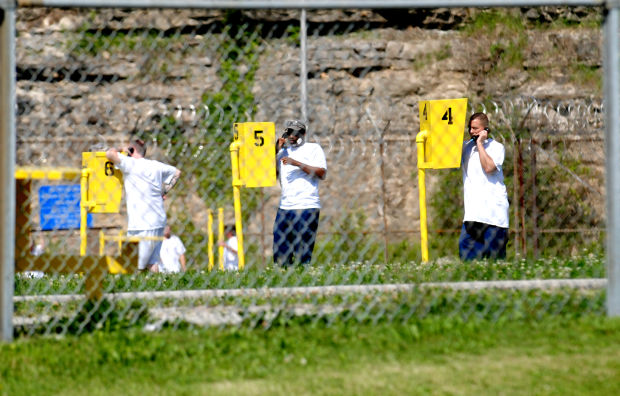 Twelve years after being wrongfully convicted of the murder of his 3-year old daughter, and residing in Maximum Security Prison Menard in western Illinois along the banks of the Mississippi, Barton learns from a fellow inmate the astounding news that his former girlfriend Misook Nowlin, with whom Bart had always maintained since the very beginning had murdered his daughter Christina, had been arrested for the strangulation murder of her mother-in-law, Mrs. Wenlan Linda Tyda. And in none other than Bloomington Illinois, within McLean County no less! The same police department and same State's Attorney Office as where Bart's wrongful conviction saga unfolded twelve years before. Over the years he had no idea whatever had happened to Misook with whom he knew threw him under the bus. The murder took place on Labor Day, September 5th, the month prior to Bart making this call to WJBC, and instead of Bloomington Police or the Prosecutor's office thinking that Barton McNeil should have been informed by them of Misook's arrest, after all she was the lead second suspect in his case afterall, Bart had to learn this information a month later from a fellow inmate. Fortunately for Bart, the fellow inmate knew in his many conversations with Bart the name Misook and her connection to Bart's case. So despite more than a month going by, nobody had let Bart know of this incredible revelation. Now armed with this information, Bart on a lark when given yard access to exercise, was able to get on a phone and miraculously call the popular Bloomington area A.M. drive time news program of local Bloomington radio station WJBC. When prisoners make outgoing phone calls, everyone they are able to call has to be pre-approved. At this time in Bart's life, his list was essentially nobody. He was living a life completely alone waiting for when he would eventually die in prison. So being able to reach WJBC was a miraculous event as this brought his distant family immediately to his aid.
Somewhat surprisingly the News Director of WJBC, Beth Whisman, at the time of Barton's 1999 conviction, remembered Bart's name and his case. Her husband actually knew Bart and liked him prior to his arrest she told Bart's cousin, Chris Ross. This recording was placed on the WGLT website with an accompanying article. It was then picked up and heard by a friend of Bart's in the Bloomington area, Chuck Nicholson, who knew Bart's second cousin, Grace Schlafer of Indianapolis, and forwarded onto her the link. She in turn sent it to her cousin Jeanne Ross who lived in Baja California. Who in turn sent it to her son Chris Ross who lives in San Diego. As our family listened to it, it became very clear and obvious that this sounded like the earnest words of a wrongfully convicted man. And that our family would need to get to the bottom of it as we only new vaguely about Bart's case. Fortunately Grace had all of Bart's Discovery and Case files as she had helped him from 2002 to 2005 to prepare Bart's self-authored Pro Se Post Conviction Appeal which was rejected by the same judge, Judge Michael Prall, who sentenced him in 1999 on the same day he received Bart's appeal. And what we didn't have information-wise we would start to amass through a series of Freedom of Information Requests and the purchase of Court Transcripts for the case in which Misook beat and threatened her daughter Michelle Nowlin 90 days after the murder of Christina. Procuring in the process 9-1-1 recordings, video taped interviews of Misook and Bart, crime scene photographs, and many other items. Fortunate phone calls led to introductions that led us to solicit the aid of the Illinois Innocence Project who joined the case soon after learning about the merits of the case and the likelihood of Bart's innocence. Today the Illinois Innocence Project has been joined by the Exoneration Project. Together both Innocence Projects are steadfastly working on gaining Bart his freedom. Without the unfortunate loss of the elderly Mrs. Wenlan Linda Tyda, nobody would have ever heard of the Barton McNeil case. It is because of her death that there now exists renewed interest in Barton's pleadings of help in his wrongful conviction case. Had she not died at the hands of the ruthless Misook Nowlin, Barton McNeil was destined to live out the rest of his life in prison, alone and with virtually no family. Without a doubt, Mrs. Wenlan Linda Tyda's death was not in vain. Barton's incredible story and journey to freedom essentially begins here.
Click HERE to hear the WJBC spontaneous and unexpected "prison yard" interview with Barton McNeil
About Author